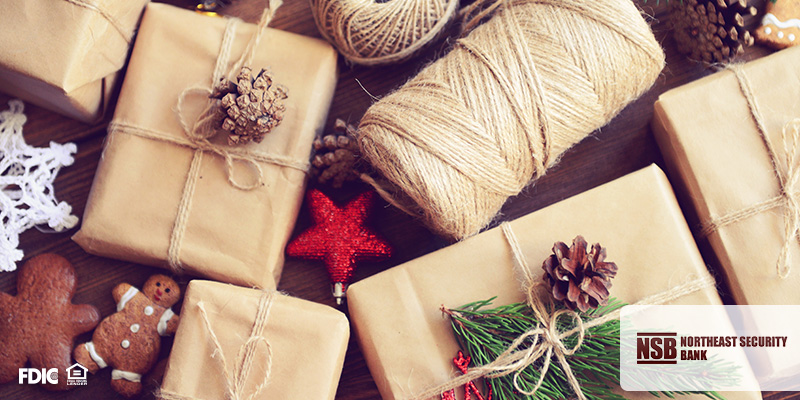 The start of the holiday season often also signifies the start of the shopping season! If you're still looking for the perfect gifts for your family members Northeast Security Bank may be able to help. Take a look at our top three ideas for each of your immediate family members, and find some inspiration when giving to your loved ones:
Mom
Family Photo Session – This classic gift is a fun and memorable experience that can be given each year. Updated family photos help make the season brighter – and when gifted early, make incredible Christmas cards! If you're looking for a photographer, we know a great one that can help!
Things to Help Relax –The 24/7 job of "Mom," takes a lot of energy and effort. Help your mother unwind with some comfortable PJ's, bath bombs, and fragrant candles. She'll appreciate the gift and the time to herself.
Books About the Things She Loves – Does your mom have her own secret recipe? How about a hidden talent for handiwork? Whatever your mother enjoys, feed her passions and find a few great books on the topics she loves most. Add an experience to this gift and plan a day where you can both share an activity that she enjoys.
Dad
Charging Station – Keys, cell phone, and everything else that seems to fill Dad's pockets can now have their own designated storage. These chargers are a great gift to help your Dad keep his phone full, but also offer the benefit of helping him stay organized too. Vendors such as Etsy have some great versions of this product that can even be customized!
Movies for Days – There's nothing like a great movie. For dads at a movie aficionado level all their own, the gift of Netflix or another reliable streaming service could be the perfect gift. If he already uses online streaming, check out your local movie theater and video rental store to see if they offer gift cards instead.
Game Grub – Nothing says winter like a well-seasoned deer stick. Help you Dad enjoy this winter delicacy by scoring some great sticks, jerky, or other meat products at your local locker. If deer is not available see if the business can make you a batch from beef with the same seasonings. No matter what, he will love this tasteful and thoughtful gift!
Brother
Sport Memorabilia – Here in Iowa, the chances of at least one of your family members being a Cubs fan is pretty great. If your brother happens to be one, make this Christmas the day of the World Series. He may want a commemorative keepsake to remember the team's historic win. Check out local sporting goods shops to find T-shirts, stickers, or other holiday items branded with the famous 2016 Chicago Cubs World Series Champions emblem.
Video Games – Brothers, both older and younger, seem to have an affinity for high definition video games. No matter what age, classics like FIFA, Madden, or Halo, help them forget the stress of the day, and enjoy being in an alternate world. Area electronic stores should have the games you're looking for, but if not online retailers like Amazon typically offer great rates.
House Slippers – Nothing says comfort like a pair of warm, well insulated, house slippers. Your sibling will warm up to this gift real quick once they feel the shoe's fleece interlining. Options are available at every budget, making this comfortable footwear easy to add to your shopping list.
Sister
Day Planner – Does your sister always seem like she has a to-do list a mile long? Help her manage her time, and work towards her goals with a daily planner. Ones like the Day Designer or Erin Condren offer great goal planning worksheets in addition to an organized and stylish day-to-day manager.
The Gift of Music – Streaming services are a great tool to use whether you're on the go or hunkering down for a long work session. With vendors like Pandora, Spotify, and XM Radio your sister can now take her favorite tunes wherever she goes. You can purchase for a year's subscription, or one Pandora and Spotify you can give gift cards that she can than choose when to use. Either way, she'll have plenty of Christmas music for the season!
Monthly Box Subscription – Give the gift that keeps on giving with a subscription to Birchbox or other great monthly services. These scheduled deliveries will keep your sibling receiving gifts all year round, with each more unique than the last. See what all subscriptions are available, and find the best option for your budget.
Grandma
Culinary Gadgets – Gatekeeper of all the family's secret recipes, grandmothers are known for whipping up some delicious dishes. Help your grandma complete her favorite meals with some helpful and handy tools! Everything from efficient cookware, specialty tools, and custom dinnerware, there are variety of items that your grandmother is sure to love.
Photo Creations – Today you can turn a photo into about anything. With gifts such as calendars, mugs, or photo albums you can help share the joy of family with your grandma. If you're looking for a center piece or focal item, try finding a decorative frame or custom photography piece.
Digital Book Reader – Your Grandmother can explore ancient worlds, experience the wild, or uncover hidden secrets, all with the click of a button. Digital readers such as the Kindle offer new and exciting novels at a fraction of the cost. They also weigh less than most books making it an easier to carry alternative.
Grandpa
Tech Support – Among the many start-ups are several great services that can help your grandfather with all of his computer problems. If he is always calling worried something is broken, this service could be the answer to his prayers. By paying a small monthly fee, you can provide him with instant tech support to help him solve any problem.
Gigantic Blankets – Like father like son. If you're getting some great movie items for your Dad, it makes sense to grab a comfortable blanket for the man who taught him to enjoy film. A soft oversized blanket offers the perfect warmth when settling in for the next big movie.
Instagram Magnets – Add some scenery to your grandfather's kitchen fridge with these fun and customizable magnets. Pulled straight from your Instagram account these images can be printed onto stickers, or several sizes of magnets. They'll remind your grandpa every morning of the family he loves, and the ones that love him.
Tags:
gift ideas
,
gifts
,
holiday shopping
,
holidays
,
Seasonal