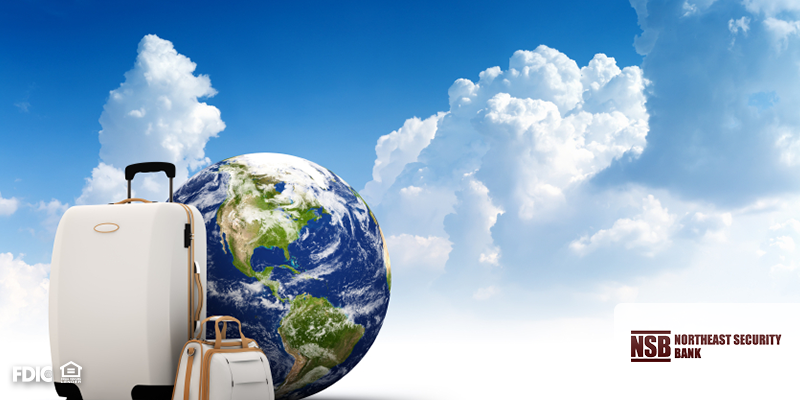 Checking numerous sites for the best deal can be labor-intensive, and potentially counterproductive. With many American travelers turning to vacation book sites and apps, Northeast Security Bank is curious if they really save you money. After thorough research, we've discovered these four truths to successfully budgeting your next getaway:
TRUE: You can save money by booking online.  
FALSE: Discount sites will always have the lowest price.  
Many travel booking sites offer discounted airfare and accommodation, boasting the same services, but at only a fraction of the cost. However, many times these sites merely display the cost an airline or hotel already has on their own site at no additional reduction. Select providers have begun to reduce participation in these travel search engines, and strive to instead offer continuous customers the best value straight on their own online portal.
TRUE: Credit cards are the most secure and affordable payment option while abroad.
FALSE: Airport currency exchange is worth the convenience.  
While there are many different options to exchange currency before your next trip, the safest method of payment during your getaway will still be your credit card. With many options now offering no currency exchange fees, you're sure to avoid unwanted conversions costs while still protecting your finances. According to both Visa and Mastercard, credit card users are held liable for zero percent of any fraudulent charges. This means that should your credit card information become compromised during your stay, you won't lose any funds because of it.
TRUE: Traveling outside of the peak seasons offers great savings.
FALSE: The skiing in Colorado is great in June.
While it is true that avoiding the crowds can save you and your family some extra dollars, it may not be worth it if it means decreasing the activities of your trip completely. Instead of limiting your travel timeline, we recommend looking for alternative accommodations such as VRBO, along with creative dining options, to maximize your destination's budget. These additional savings can help to bring your overall cost down, while still making your dream vacation a reality.
TRUE: You can save a lot of money by using airline miles.
FALSE: Airline credit cards are worth the annual fee for a yearly vacation.
Unless you plan to fly every month, an airline credit card is hardly worth the cost. While these cards offer tempting miles for flights, increasing numbers of travel options are blacked out throughout the year. The annual credit card fee for United, American, and Delta costs approximately $95.00 after your first year of use. While boarding in group one can be a well-enjoyed perk, it doesn't boast much ROI for fliers who are simply looking to reach their annual destination.
As you begin to plan your next vacation, Northeast Security Bank looks forward to helping you save the funds to make it happen. Stop in today and learn how to open a designated savings account today!
Tags:
budgeting
,
save money
,
savings
,
Travel
,
traveling