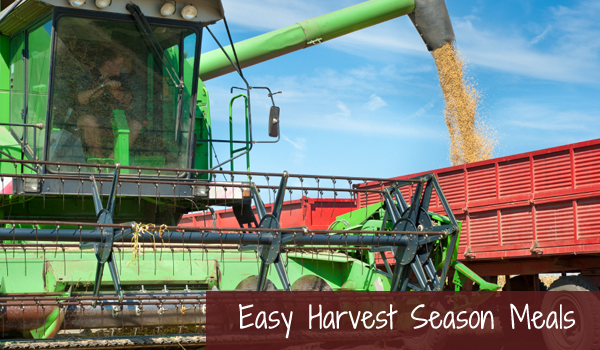 Harvest time is here, meaning long days for many of our family members. All the hard work in the fields can create a serious appetite. However, the type of food our fathers, mothers, husbands and daughters can eat can be limited by the number of hands they have available.
For most farm equipment, only one hand is free most of the time. That's why we thought it would be a great idea to offer up some "One-Handed Meals for Your Favorite Farm Hand!" Not only are all of the items below delicious, but they're also very cost efficient.
Check out these recipes and give them a try this harvest season!
Calzones– these offer a little more flexibility than sandwiches since you can fill them with sauces and other items that would fall off a slice of bread. You can also fill your calzones with pretty much anything, so get creative! Recipe here.
Meat and Cheese Pinwheels- perfect for baking ahead of time and tasty at any temperature, meat and cheese pinwheels are a tasty treat than can be used for a full meal or a mid-afternoon snack. You can also go with an unbaked version so you can add some lettuce, tomatoes or other veggies before leaving the house. Recipe here.
Chicken Pot Pie Cupcakes– forget actual cake and frosting, these cupcakes contain all the taste of a chicken pot pie in handheld form. The best part is that they don't have to necessarily be served hot to be delicious. Recipe here.
King's Hawaiian Roll Ham Sandwiches- not only do these rolls offer a change of taste with the Dijon mustard, but the King's Hawaiian Rolls stay soft and make this recipe complete. Recipe here.
Buffalo Chicken Taquitos- if the farmer in your life enjoys Buffalo wings or Buffalo chicken dip, these are right up his alley. The only difference is that the deliciousness is wrapped up in a tortilla and baked. Recipe here.
Stuffed Desert Crescent Rolls- who could forget about a delicious dessert? These stuffed rolls are so simple it's ridiculous, and you can fill them whatever you want, from Nutella to apple pie filling. The recipe: take crescent rolls, add your filling, press down the edges, coat in cinnamon and sugar and bake according to the directions on the can.
What other one-handed meals do you prepare? Be sure to post your ideas to our Facebook to share them with everyone else.
Whichever of these options you go with, you can bet your hardworking family members will thank you, and so will your wallet. Go forth and cook!
Northeast Security Bank
Equal Housing Lender
Member FDIC
Tags:
easy meals
,
harvest season meals