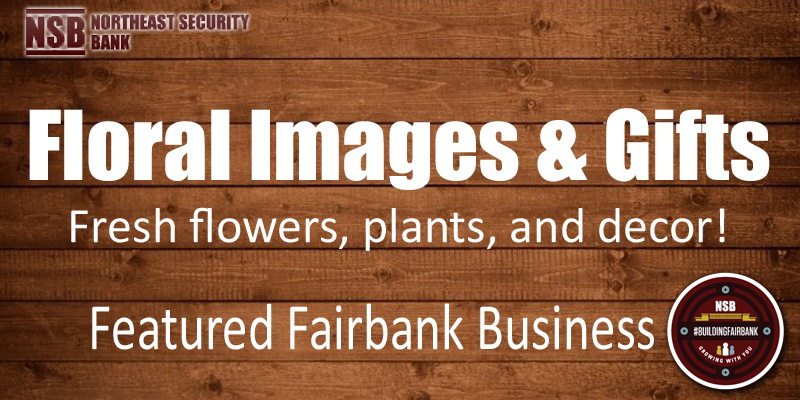 Situated in the heart of Fairbank, Floral Images & Gifts offers fresh flowers, plants, and decoration items from their downtown storefront. Owner Peggi Suckow creates custom floral arrangements for Fairbank residents just as she has done for the past 25 years. The shop currently specializes in floral arrangements for families and weddings, in addition to the store's wide array of home decorations.
After living in Cedar Falls for a period of time Peggi, says she's enjoyed the small town environment Fairbank has to offer, and all of the incredible customers she works with on a daily basis.
"The chance to be one-on-one with customers," Peggi said is one the greatest things about owning her business in Fairbank. Getting to know the customers, and growing in a close knit community is truly an intangible value tied to Fairbank's small business owners.  "People connecting with people. Some become extended family," said Peggi.
Between Fairbank Days, and the Christmas Hop, Fairbank's seasonal activities truly bring the community together. Peggi describes Fairbank as a, "Safe friendly community to raise children or grow old in." With approximately 1,113 people within this small town, Fairbank is truly one of a kind.
Next time you're searching for that perfect floral statement, or some added touches for your home decoration, stop by Floral Images & Gifts at 209 E Main St. in Fairbank, and ask for Peggi.
Northeast Security Bank loves working with small business owners just like Peggi! With custom commercial financing, credit and debit cards, convenient online services, and business checking we have everything you need to turn your next business idea into reality.
"They are near and it is hometown, with people from Fairbank working there. You have the comfort of knowing you are well taken care of. Friendly, cordial, pleasant, helpful and so much more," shared Peggi.
Northeast Security Bank is proud to feature local small businesses in our monthly blog. If you or a business you know would like to be featured please contact Marcy Bergman at MBergman@northeastsecuritybank.com.
Tags:
business
,
business loan
,
fairbank
,
feature
,
financing
,
floral
,
floral arrangements
,
Iowa
,
small business