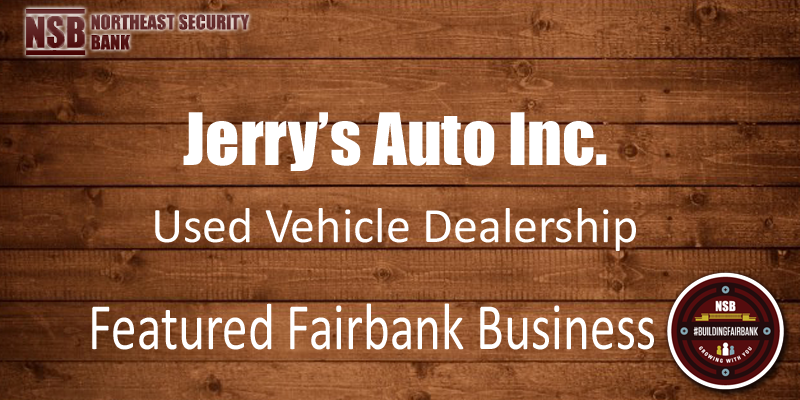 Continuing to take customer service one step further, Jerry's Auto Inc., owned and operated by Jerry Wanda and Todd Kaufman, works to always do right by their clients – even when it isn't easy!
Situated on the edge of Fairbank, this local used vehicle dealership helps Fairbank residents purchase reliable and affordable vehicles. For everything from a child's first car, a more spacious van, or a dirt road loving pickup, Jerry and Todd work to find the best car for each customer.
Planting their business roots in the town of Fairbank is something both Jerry and Todd continue to appreciate.
"Working local keeps us close to family and friends; the people have given us incredible support over the last 27 years!" said Jerry.
A great work environment isn't the only thing these two love about being a part of the Fairbank community. Each February the American Legion holds their annual Fish Fry, packing guest to the gills with deliciously crunchy fried fish. This community event not only provides participants with a hardy helping of food, but also raises funds for local initiatives.
While honesty is the best policy for this hometown hot spot, it may be becoming a rarity amongst many out-of-town car buying experiences. Next time you or your family member is looking for a new ride, be sure to stop by Jerry's Auto Inc., where small town friendly is the norm, and honest car-buying is their standard.
Northeast Security Bank loves working with small business owners just like Jerry and Todd! With custom commercial financing, credit and debit cards, convenient online services, and business checking we have everything you need to turn your next business idea into reality.
"The employees at Northeast Security Bank are friendly and hardworking; when I need help they're there for us!" shared Jerry.
Northeast Security Bank is proud to feature local small businesses in our monthly blog. If you or a business you know would like to be featured please contact Marcy Bergman at MBergman@northeastsecuritybank.com.
Tags:
auto loan
,
Community
,
small business