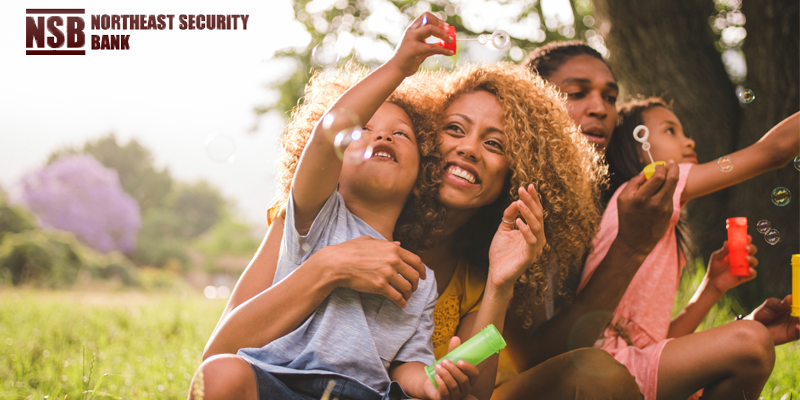 Dairy Days will be here soon! With everything from baseball tournaments, cattle shows, fireworks, and more, Fredericksburg's 92nd celebration is sure to be the highlight of your summer! Try these tips from Northeast Security Bank to make the most out of your Dairy Days parade experience this June! Whether you're tossing candy to the crowd, or admiring the endless entries from the curb, this will be an event you won't want to forget.
WATCHING THE PARADE
Park wisely. The parking challenge is inevitable, but you can help make it a little easier for others. DON'T: take up two parking spaces, park in driveways without receiving permission, park within 10 feet of curb corners, or park in front of water hydrants to be a good neighbor and avoid tickets!
Come prepared. You know to bring sunscreen and a blanket, but you can amp up your spectator arsenal further with these key items! DO: be sure to add small games for the kids (bubbles, cards, etc.), a route mapped to the nearest bathroom, a portable battery to charge your phone as you snap photos, ear plugs for sensitive ears, and wet wipes for sticky faces afterwards.
Bring the right food. Whether spectating or cheering, the ultimate parade day requires a lot of walking. To help keep your energy up pack a small bag with foods that keep well at any temperature, like peanut butter and jelly sandwiches, fruit, and granola bars. DON'T: bring coffee and sodas that can dehydrate you. DO: opt for water, fruit juice, or sports drinks in resealable containers to hydrate well and avoid spills.
WALKING IN THE PARADE
Fuel up ahead of time. Members of marching bands, dance crews, and other street performers need stamina to last long routes. DO: start drinking water the night before to keep hydrated, and drink a few extra glasses alongside a solid breakfast with plenty of carbs for energy.
Overshoot your throw. If you're tossing out candy, your aim is crucial to prevent little ones from dodging into the street to pick up pieces that didn't quite make it to the curb. DO: shoot to throw over the heads of participants rather than right at their feet. By the end of the parade, your arms will be so tired that the treats will end up curbside anyway.
Be careful with what you're tossing. DO: go for chewy or hard candies that will withstand summer sun better than melty chocolate. DON'T: use candy containing nuts in consideration of parade goers with food allergies. Other soft giveaways like koozies and stress balls won't hurt if they land on distracted attendees, but rethink items that might cause a little more damage, like pens or keychains.
With these tips, and some great summer sun, you're sure to have a great time at the famous Dairy Days parade! But the parade isn't the only fun you'll experience, join in on the excitement during all the Dairy Days events June 7th and 8th.
Tuesday, June 7, 2016
1:00-6:00 Merriam's Midway Attractions Reduced Priced Rides downtown Fredericksburg
11:00-6:00 Baseball Tournament
2:00pm Fredericksburg Fire Department Kids Waterball
4:30-6:30 F'burg Fire Dept. Pedal Tractor Pull at Football Field
6:00pm Car Cruz starting on South Jefferson near Kerry Foods
7:00pm Street Sports for Kids 13 and Under at Football Field
8:30pm Milking Contest at Softball Field
9:00pm Old Timer's Softball Game
10:00pm Fireworks (Rain date Wednesday, June 8th)
Wednesday, June 8, 2016
7:00am Moo Run Walk – 5K/Run Walk (Country School House)
10:30am Parade featuring various attractions on Main Street
11:30am Methodist Church Chicken and Beef Noodle Dinner
12:00pm Buck Hollow Band Performance (Downtown Stage)
12:00pm Registration for Dairy Cattle Show (Fire Station)
12:00-3:00 Craft Vendor Fair Sponsored by Friends of the Library (Fredericksburg Community Center)
12:00-4:00 Free Caricature drawings by Blue Ribbon Caricatures
1:00-5:00 Free Face Painting by Amy Sharar
1:00-5:00 Zimmerman Mobile Zoo
1:00pm Marc Frana Band Performance (Downtown Stage)
1:00pm Dairy Cattle Show at Fire Station(registration at noon)
1:30pm Registration for Bill Riley Talent Show (Downtown Stage)
2:00pm Lion's Club Cow Pie Bingo (Fire Station)
2:00pm Money in the Hay sponsored by NE Security Bank
2:00pm Bill Riley Talent Show at (Downtown Stage)
4:00pm "Fire Cow" Race sponsored Fredericksburg Fire Dept. (Mattke Park)
5:00-5:30 Expressions Dancer's Performance (Downtown Stage)
5:30-6:00 Tae Kwon Do Group – Stacy Bendickson's Group
6:00-6:30 Annie's Dancers (Downtown Stage)
7:00pm Parade Featuring Various Attractions on Main Street
8:00pm Coronation Dairy Princess and Dairy Day Winners (Stage)
8:30pm Main Event: Dan Ladd Comedy Hypnosis Show (Stage)
Check stage area or contact a Dairy Day Board Member
Times Listed are Subject to Change
Tags:
Community
,
Dairy Days
,
Fredericksburg
,
Parades