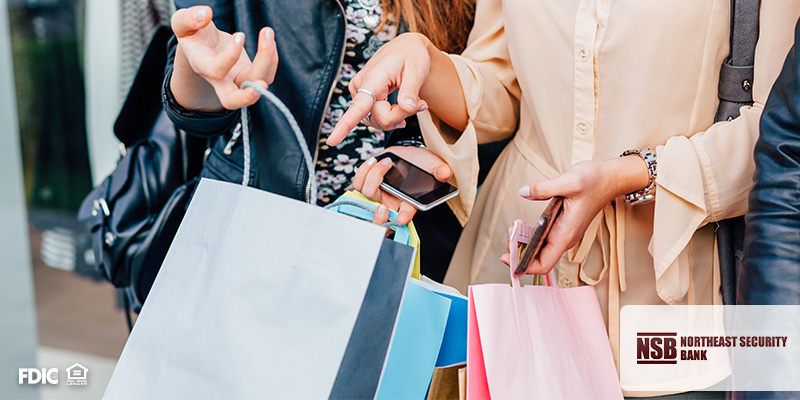 The holiday shopping season has officially begun! With stores offering discounts on everything from toothbrushes to televisions, the time for the best steals is now. While many brick and mortar stores advertise doorbuster deals and hourly specials, the real deals of December can be found online. At Northeast Security Bank, we want to help you make the most of your money with these cyber shopping strategies:
Price Shop: Trade-in the holiday store rush for a nice relaxing afternoon of online shopping. This hassle-free alternative can help you double the amount of transactions in nearly half the time. Additionally you can compare prices across vendors with ease, finding the best price and quantity for your holiday needs. There are countless new tools to help you make the most of coupons and specials across the internet, and so far our favorite is Honey. This simple app automatically enters all applicable codes to help your purchase get the lowest possible price!
Check Your Shipping: Finding the perfect gift is one of the greatest feelings. However, realizing that it won't arrive until after the holidays is one of the worst. Before you complete any of your orders online, be sure you are checking the estimated shipping date. While many retailers will offer FREE shipping during the holidays, an extra charge may be required if you need it by a specific date. There are some companies, like Von Maur, that offer both FREE shipping and returns, plus FREE gift wrap, making them perfect for last minute shopping.
Use Credit NOT Debit: Instead of attaching your checking account to each transaction, choose one credit card to facilitate all your online shopping. Companies such as Visa and Mastercard offer zero liability for their cardholders. This means that if your card becomes compromised, you are not responsible for any false purchases that are made under your account. With this additional safeguard, you can shop online, without the worry of jeopardizing your personal finances.
With these simple and convenient shopping methods, you can keep your budget in check and save time along the way. If you have further questions on when to use your debit card versus your credit card, give us a call, we'd love to help!
Tags:
Holiday
,
online shopping
,
Seasonal