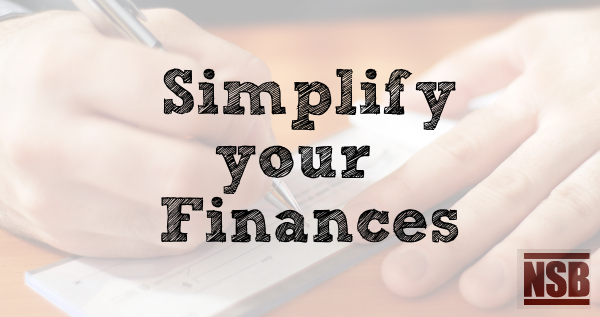 When you think of your financial life, simple is not a word that comes to your mind. It's Simplify your Life Week and Northeast Security Bank is bringing you ideas to accomplish simplifying your financial life.
Simplify your Financial Life with these tips:
Pay off your credit cards- especially if you have debt issues or carry high balances. Pay it off, shred your statements and say goodbye to paying interest on your balances. You will simplify your payment ways and relieve yourself of stress.
Budget with pen and paper- if you can't write out your budget, it's too complex. Writing it out helps you understand where your money is going and can decrease wasteful spending.
Focus on one goal at a time- regardless if you're attacking your debt, saving for a down payment or building an emergency fund, commit to the one goal until it's met.
Consolidate accounts and loans- this goes for checking, savings and retirement accounts. Fewer accounts = less time wasted managing them. Consolidate your loans so you are having to remember less payment dates.
Experiment with money "hacks"- try out "no spending days" or create a 30-day list for must-have purchases. If you don't need them after 30 days, you don't need them.
Think big picture- forget about monthly payments, how much will that new big screen cost in your lifetime? Thinking "total cost" will help prevent impulse spending.
Package services- package your insurance needs, phone/data services, etc. with one company. This reduces confusion with payments and usually results in a discount. Also, make a list of what you need before you start shopping to eliminate unnecessary add-ons.
Budgeting, consolidating and simplifying will help you organize your life and become less stressful. Northeast Security Bank hopes you are able to simplify your financial life this week.
Tags:
finances
,
Simplify
,
simplify your life