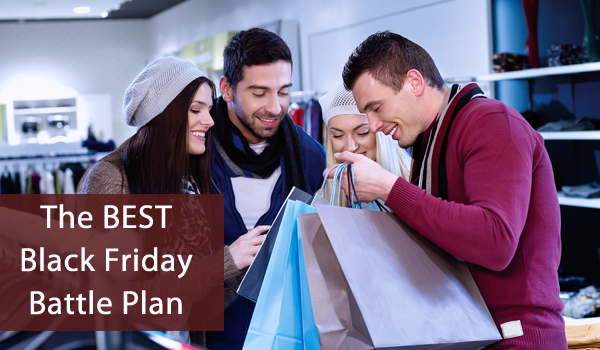 Before the turkey's had time to settle, will you be preparing for battle Black-Friday style?
Black Friday – the US holiday retail affair held the day after Thanksgiving – saw 140 million Americans push through store doors in 2014 in hopes of snagging spectacularly discounted goods. Bargain-hunting becomes a sport of Olympic proportions, one that you can conquer with money-saving strategies from Northeast Security Bank and its customers:
Start planning yesterday: You'll need a rock-solid game plan to secure these deals, and strategy takes time. Request time off work as soon as possible to guarantee a spot on the frontlines of customers. If you've been toying with the idea of a new TV or other big-ticket item for a while, check out Consumer Digest to find the top three options for each product. Then, start researching which stores carry and if they plan to discount them on Black Friday. Plenty of time for plenty of research can save you plenty of money in the long haul.
Scour the ad section: Make like Santa – create a list of promotions, and check it twice. Then do it again. Businesses know the big potential for big money Black Friday fords, so they'll run ads in weekly papers, newsletters, handouts, and online circulations a week or two before the big day. Scope out the best deals, and keep track of them by item name, brand, and price on a running sheet that you take with you when the doors open.
Map your route: If you plan to wander the aisles aimlessly searching for that dream-item, just stay home. The savviest of shoppers look up a map of the store ahead of time either in person or through a quick Google search to pinpoint the location of their prize.
Divide and conquer: There's power in numbers – so use it. Go with a team and pick roles ahead of time: one person can wait in line for checkout early in the game while others charge into the search and rescue operation. Another person can control the cart to connect the hunters with the line waiters for maximum efficiency. A 6-man team works best for an operation of this scale.
Have your victor's chariot on standby: The worst possible way to celebrate your morning's conquest is discovering in the cold parking lot that your car isn't big enough to hold your treasures. Before you head out, compare vehicle measurements with the sizes of your expected buys, and double check you have adequate supplies to restrain items if necessary.
With great deals comes great responsibility. Plan smarter with Credit and Debit card options  from Northeast Security Bank, and charge into the crowds with confidence and security!
Tags:
black friday
,
black friday shopping
,
shopping tips