At Northeast Security Bank we are committed to providing our customers with the latest and greatest in banking technology. With these new and innovative technologies, it may be difficult to understand how to use all of these different technologies. We understand your difficulties, so we have opened an Innovation Station for people of all ages at our Innovation Station.
What can you do at the innovation station?
The innovation station is designed to help customers of all ages with questions about our services. If you need help navigating mobile banking, online banking, e-statements or anything else, the innovation station is the place to go for all of your questions.
The innovation station answers questions about the following services:
Mobile Banking:
If you have yet to sign up for our smartphone mobile banking app, no worries! We designed our innovation station so the friendly faces at NSB can help you sign up for the app. We also have pamphlets with instructions on downloading the app so the whole family can have it.
Mobile Capture:
Mobile capture is a new addition to our mobile banking smartphone application. You can use this service to deposit a check into your bank account. You can stop by our innovation station to learn how to use mobile capture through the Northeast Security Bank app. We offer pamphlets at our innovation station with helpful information and tips for using mobile capture.
Online Bill Pay:
Sign up for Online Bill Pay, ask questions about the services and learn everything you need to know about using this service offered by NSB at our innovation station. Our innovation station is designed to help you sign up for the various services offered at NSB so your banking is convenient and easy to use.
Northeast Security Bank's Innovation Station is another way for us to make banking easier for you. Contact us or stop in at our Sumner office today to learn more.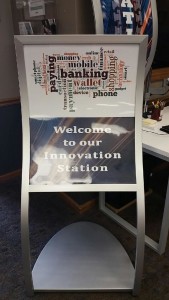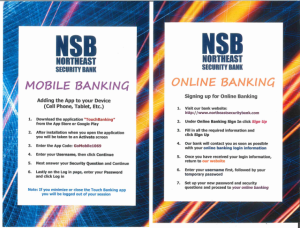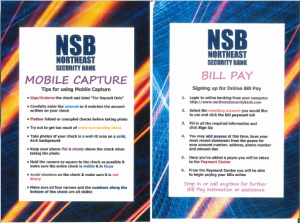 Tags:
banking services
,
Innovation Station
,
Northeast Security Bank