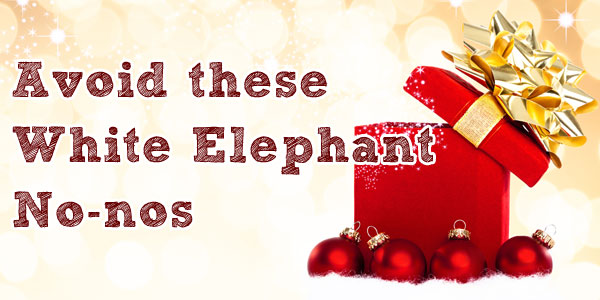 The holiday season has hit and we all know what that means: White Elephant parties. Nasty Christmas. Ye ol' Yankee Swap. Whatever you call it, most of us have participated in some kind of humorous gift exchange. While this kind of party is more about the socialization than getting an actual gift, there are certain unspoken rules that participants are expected to follow.
While a White Elephant party draws people of all kinds, there are three types of party-goers that you do not want to be:
THE ONE-TRICK PONY
Every joke runs its course. There are only so many years that it is funny to wrap up the same thing that got a laugh the year before.  Unless it is a bag of prunes. For some reason, prunes are always funny. But when you continue to wrap up some unreasonable Sam's Club size box of an obscure food year after year, it is time to get a bit more creative.
THE CHEAPSKATE
While White Elephant gifts are not usually pricey, it is always a good rule of thumb to never wrap up any promotional item that you got for free at work. Nobody wants a paperweight with the company's logo on it. We all have enough coffee mugs taking up cupboard space. If you are going to bring a gift that nobody wants, it at least needs to be funny.
THE RECYCLER
If you are set on recycling a past gift or gifting your work promotional items, at least have the decency to include a $5 gift card. Everybody else has paid a little bit for their gift.  A gift card is always a safe (yet boring) bet. People will fight for it, but it isn't overly entertaining.
People often stress about what gift to put in a White Elephant gift exchange. If you only get a couple scattered chuckles in the room, don't worry about it! The point of White Elephant parties is to have fun. Not every gift can be a knee-slapper! When choosing your gift, use your best judgment and your sense of humor. Dig out the cheetah print Snuggie your Uncle Jerry gave you. Bag up those prunes.  As long as you bring a gift that matches your awesome sense of humor, you have done a good job!
Northeast Security Bank wants to wish you a joyful holiday season! We hope to see you soon!
Tags:
white elephant
,
white elephant etiquette
,
white elephant rules