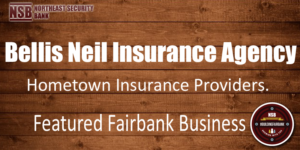 As soon as you step into the main street storefront you are greeted with a familiar smile. Serving the immediate Fairbank community Bellis Neil Insurance Agency welcomes customers from all walks of life into their office to chat and discuss their future goals. With offerings for all areas of insurance including home, auto, health, crop, farm, and commercial, owners Chad and Amber Van Daele pride themselves on being a true family run business.
Starting their growing business in Fairbank was an easy decision for the couple. "Having bought our business from two wonderful successful families gave us the assurance we needed to keep offering the same services they did," said Amber.
Fairbank boasts numerous benefits for small businesses, one of the most influential being their people! "Everyone knows everyone and no matter what, you feel encouragement, support and friendship from whomever your encounter," Amber shared.
Their life in Fairbank is full of activity. No matter what holiday is on the horizon, the town is always buzzing with festive events, decorated streets, and citizens beaming with excitement.
Working in the insurance industry is something the couple is truly passionate about. Treating others the way they want to be treated is the company motto, and both Chad and Amber work each day to do exceptional work for their valued clients. "Living and working in a small town gives a feeling of success when so many of your customers are part of your daily life!" said Amber.
If you're looking to reexamine your insurance policies stop by the Bellis Neil Insurance Agency today! Located at 107 E. Main St., their knowledgeable agents will make sure to find you the best policy for best price.
Northeast Security Bank loves working with small business owners just like Chad and Amber! With custom commercial financing, credit and debit cards, convenient online services, and business checking we have everything you need to turn your next business idea into reality.
"Everyone is so friendly and helpful – you have a trustworthy small town feel with all the employees and they always offer excellent customer service," shared Amber.
Northeast Security Bank is proud to feature local small businesses in our monthly blog. If you or a business you know would like to be featured please contact Marcy Bergman at MBergman@northeastsecuritybank.com.
Tags:
fairbank
,
insurance
,
small business