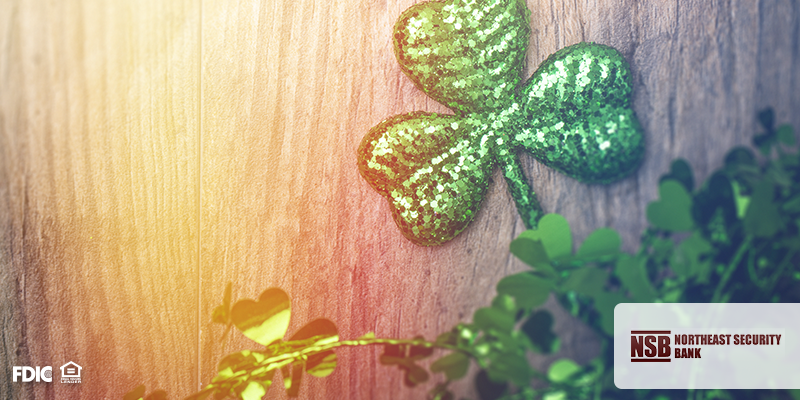 March is the season of basketball, vacationing, and all things green! At Northeast Security Bank, we are excited to spread some Irish cheer with our favorite St. Patrick's Day dishes!  Be sure to dig into these delicious recipes and let us know what you think.
Brown Soda Bread: This simple but decadent snack is a staple to the Irish community throughout the year.  Composed of whole wheat flour and buttermilk, this recipe is sure to leave your family asking for more.  We recommend adding green food coloring to give it a spritz of holiday spirit!
Irish Stew: A classic hearty stew, this dish has been recognized as the national dish of Ireland for the past two centuries.  Packed with lamb, potatoes, and carrots, this stew is sure to fill up you and your family.
Chocolate & Mint Cheesecake Bars: For all of the sweet tooths out there, this recipe is for you!  This decadent dessert is made up of chocolate fudge cake mix, cream cheese, dark chocolate, and mint chips.  These mint masterpieces will impress your coworkers and family, so be sure to share the recipe!
Heritage Cabbage: Searching for that perfect side dish to your meat and potatoes?  This mild cabbage recipe is easy to put together and good for those who are watching their weight this season.
Guinness® Beer Cheese Dip: This cheesy delight will be a snack you won't be able to put down.  During your St. Patrick's Day party, put out tortilla chips and pretzels with this tasty dip for all to enjoy!
Potato Soup: Everyone loves a warm bowl of vegetable and bacon soup.  These simple steps make it easy to add your own flair of flavor, tailored to your family.
Chocolate Beer Cupcakes: These cupcakes will give you some pep in your step with their fiery whiskey filling.  To add some festivity to the flavor, tint the frosting green and add green sprinkles for your St. Paddy's celebration.
Braised Corned Beef Brisket:  You've never had corned beef like this!  Instead of the commonly boiled tradition, this slow braise method yields a tender, savory, and caramelized surface when complete.
Potato Scones: Start your holiday off right with a piping hot scone.  You can add onions, peppers, or other personal favorites to this no-fuss recipe to make it truly your own.
We hope you enjoy these festive foods as much as we do!  Remember to share your favorite dish on our Facebook page, or stop by Northeast Security Bank – we'd love to try your take on a classic!
Tags:
food
,
Holiday
,
recipes
,
St. Patrick's Day