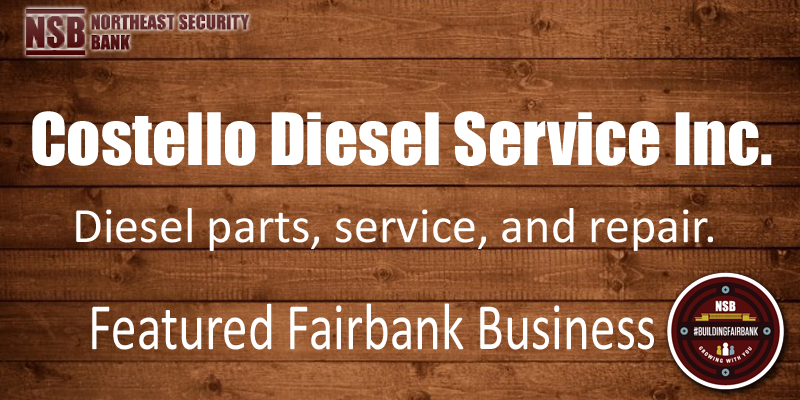 Situated on the North side of town, Costellos Diesel Service Inc. provides the community of Fairbank with experienced and reliable service for all their automotive needs. Run by Jim & Mary Costello, this pinnacle business has grown in Fairbank for the past 40 years.
Throughout their decades of service the Costellos have witnessed many kind acts and appreciative gestures by the town citizens.
"We were never more grateful to be located in Fairbank than in January 1998 when we had a fire at our business. The support and encouragement we received from the community, employees, friends, and neighbors was wonderful," said Mary.
There are many reasons the Costellos love calling Fairbank home. Between the light commute, Island Days,  and one-on-one relationships, there are endless reasons why Jim & Mary enjoy working in the town of Fairbank.
"Since moving to Fairbank almost 40 years ago we've seen many changes which have kept the town alive and growing. It's a community working together can accomplish," Mary commented.
If you run into truck troubles, and need a fix, be sure to call Jim & Mary at Costellos Diesel Service Inc. for great results and great people.
Northeast Security Bank loves working with small business owners just like Jim & Mary! With custom commercial financing, credit and debit cards, convenient online services, and business checking we have everything you need to turn your next business idea into reality.
"I like the friendly one-on-one relationship we experience there," shared Mary.
Northeast Security Bank is proud to feature local small businesses in our monthly blog. If you or a business you know would like to be featured please contact Marcy Bergman at MBergman@northeastsecuritybank.com.
Tags:
fairbank
,
feature
,
small business