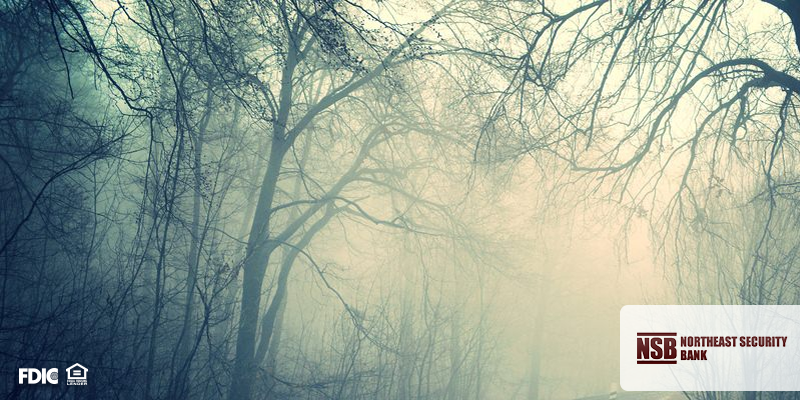 October is the start of scare season, and our thrilling-seeking team at Northeast Security Bank has hand-picked these fearful destinations to help you get the most freights out of your weekend!  See if you can make through all five:
The Heart of Darkness (Waterloo, IA) : A truly frightful and haunting experience, this attraction offers multiple horrors to make your hairs stand on end. With different scenarios throughout the weekend, you can find the perfect option for your tolerance of fear!
Pinter's Dead Shed (Decorah, IA) : You never know where you'll find the next spooky spectacle, it could even be at your local greenhouse! That's the case with this Decorah gem, stop by in the day time to find beautiful mums and pumpkins galore, but come back at night, and be sure to bring a flashlight! This dynamic group of scary savages will keep you screaming throughout the haunted tour!
The Haunted Hike (Clear Lake, IA) : Terrors await you throughout this haunted hike. With mysterious creatures, and surprising scares, you'll be screaming every step of the way! For those looking to have a little action in their freight, Zombie Paint Ball is a new and exciting activity to see what it would be like to walk among the dead!
Scream Acres Park (Atkins, IA) : Offering four frightful attractions, this growing fear factory is full of gruesome and gory ghouls ready to sneak up behind you! Their newest attraction, Cell Block Z, will have you running from the un-dead as you navigate abandoned prison cells. For those with a fear of clowns, we recommend the Carnival of Chaos, which leads you through an indoor maze with circus creatures waiting to pounce on your every move.
Circle of Ash (Cedar Rapids, IA) : An entire carnival of creatures, this fearful festivity offers both scare attractions, scream-worthy rides. Test your tolerance and enter the Frightmare Forest to dwell with the dead, or step inside the Pandemonium, and bring all your worst fears to life!
At Northeast Security Bank we love this spooktacular season! With haunted houses, costumes, and candy galore, there's a reason Halloween ranks as one of our favorite holidays! Check back soon and see all the scare tactics we recommend.
Tags:
Community
,
Halloween
,
Holiday