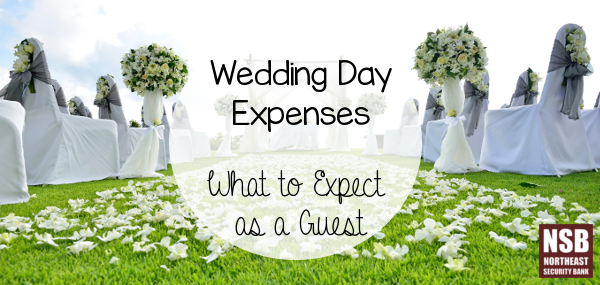 Getting invited to a wedding is an exciting opportunity to see friends you haven't in a while and celebrate family and friends while they head into a new life journey. Northeast Security Bank hopes your experience as a guest at a wedding is exciting, but we also want to prepare your wallet for the potential costs associated with attending.
Wedding day expenses as a guest:
Out of town wedding– Prepare for the cost of booking a hotel. Hotel rooms can run anywhere from $75 a night to upwards of $200 per night. If you are heading to a town where you have relatives, don't be afraid to give them a call and see if you can stay at their place. They would likely love to see you while you're in the same area for a wedding.
Gift– When attending a wedding, it is proper etiquette to get a gift for the bride and groom. Wedding registries can easily be accessed online so you can budget for what gift you plan to give. There's no need to go overboard and spend hundreds of dollars on a gift, it is more the thought that counts in wedding gift giving.
Drinks and tips– Depending on the wedding, be prepared for the possibility of having to pay for your own drinks. It is normal at a reception after the ceremony for the meal to be included, but drinks are not guaranteed. Be sure to have cash because most bars at weddings are cash bars. Don't forget to tip the servers at the wedding as well.
Weddings are a fun and exciting experience, but don't blow your weekend budget carelessly this summer during wedding season. Northeast Security Bank is here for your budget questions and financial needs. Contact us today to learn more about our services.
Tags:
Wedding guest expenses
,
wedding season